Kraken has a worldwide reputation as a leading cryptocurrency exchange. Based in the United-States, they were one of the first crypto exchanges as well, having been launched in 2011. They offer a product tailor-made for cryptocurrency traders of every experience level. Whether you are new to crypto or you have been at it for years, you'll find Kraken to be a user-friendly environment in which to complete your trades.
To begin with, note that Kraken bills itself as a digital currency exchange operated by "a diverse group of thinkers and doers that are dedicated to making cryptocurrency available and accessible to the world." A stated part of their mission is to enable "people from all walks of life to invest in their independence."
Kraken currently supports about 33 different cryptocurrencies including some of the most known like Bitcoin, Ethereum (Ether), and Tezos. For the purposes of depositing and withdrawing, the platform supports a variety of fiat currencies including Canadian dollars.
Kraken User Experience
Visiting Kraken for the first time is a pleasant experience since they recently revamped their website. Everything is laid out fairly simply for easy navigation; the site is rather unobtrusive as well. However, some of that changes once you sign up and actually begin trading.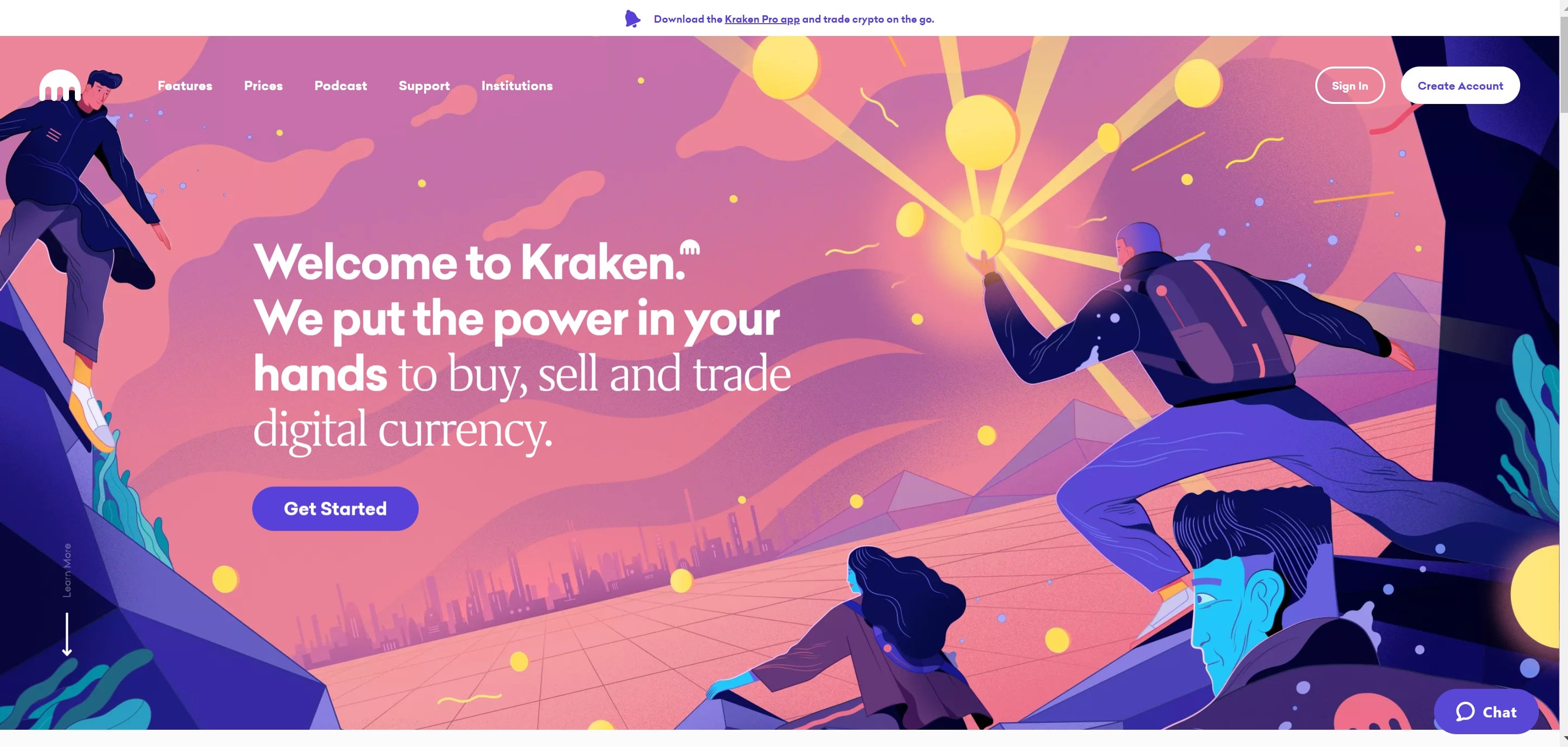 The UI can be somewhat intimidating for beginners. To its credit though, Kraken gives investors a ton of information to work with. But so much information could be a bit too much if you are new to the crypto trading scene. That being said, once you stick with Kraken for while, you get the hang of it.
Kraken Deposits and Withdrawals
In order to buy cryptocurrency on Kraken, you will need to make a deposit of a fiat currency like CAD. That is accomplished through the Funding section of the website. This is where, at least for me, Kraken loses compared to other Canadian exchanges. Kraken does not support Interac e-transfers, credit cards, debit cards, or payment services like PayPal. Instead, you will have to use either Etana Custody, In-Person Payments (IPP) or Credit Union Atlantic (wire). You can also fund your account with any of the supported cryptocurrencies.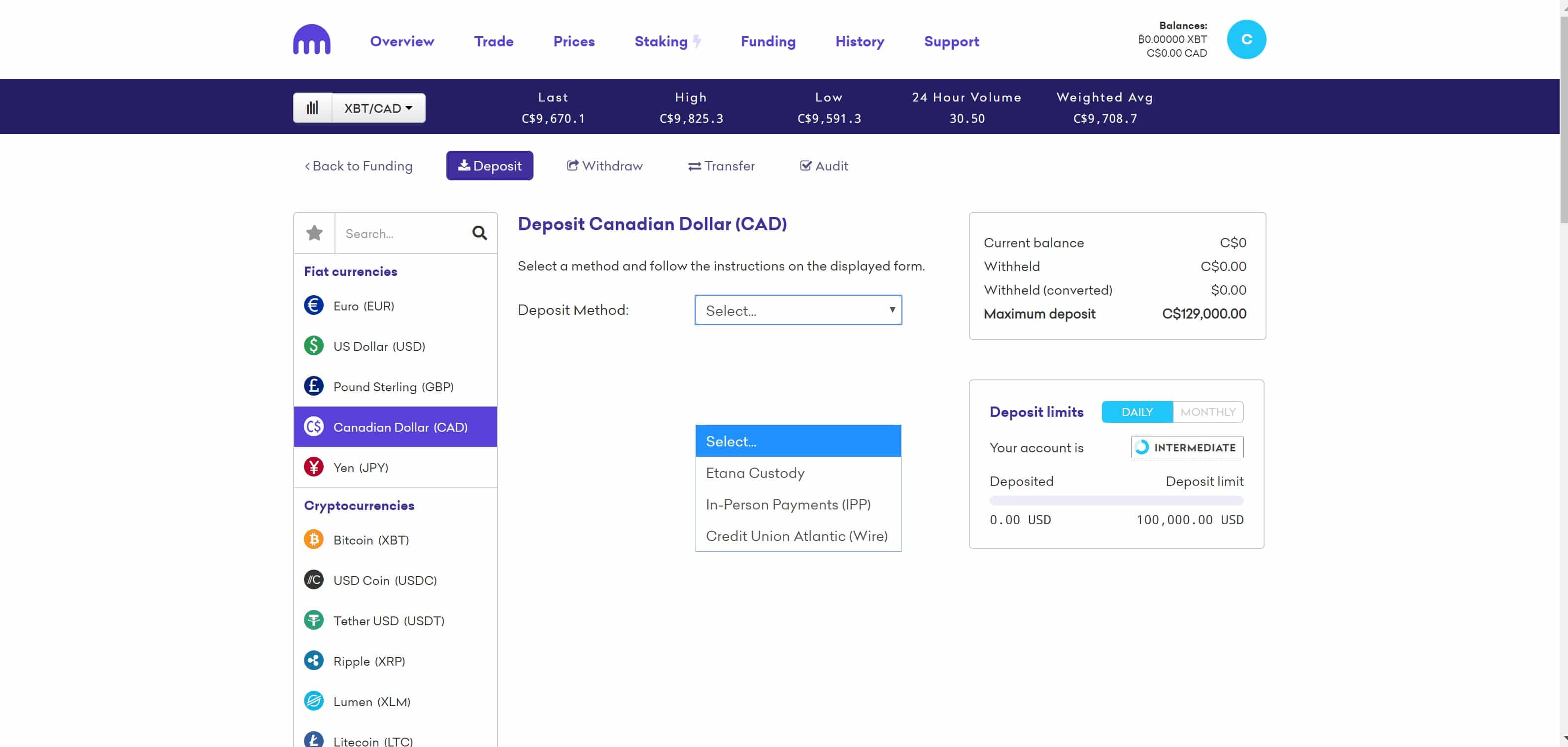 In Canada, Interac e-transfers are arguably the easiest way to fund an account to buy crypto – you'll have to go with Shakepay, BullBitcoin or Coinsquare if you want to use that option.
As for withdrawals, Kraken imposes daily and monthly limits. They also divide accounts into tiers, so your daily and monthly limits are totally dependent on your account tier. Your options to withdraw fiat are limited to either Etana Custody or an EFT (electronic fund transfer). You can obviously withdraw in crypto.
Kraken Security
Security is always of utmost importance whenever you're dealing with investments. Cryptocurrency investments are no different. Kraken says they utilize all the latest technologies to protect customer data and assets. They claim that the vast majority of their holdings are kept safe in cold storage. All their cold wallets are encrypted.
Kraken also implements two-factor authentication to prevent malicious attacks. When you sign on, you'll also receive a text message or e-mail requiring you to verify your identity before you are allowed in.
As a custodial crypto exchange, one thing that we like about Kraken is its adherence to proof-of-reserves, which it confirms through the audits Kraken submits itself too. As Kraken states on its site, it "holds full reserves, and [Kraken] employ[s] an independent, cryptographically-verified audit in order to prove to third parties, including [their] customers, that customer funds are properly held."
Kraken Customer Support
No exchange is any better than the support it offers. Where Kraken is concerned, they claim to offer live support 24/7 via on-site chat. They also offer a comprehensive support centre with one of the most extensive FAQ sections in the business. If you cannot find an answer to your question here, you can always search the support centre or hit up the chat.
Note that other reviews have explained that Kraken's support can be overwhelmed at times, given the size of the exchange. If you can't find the answer to your question in the support centre and you don't have time to wait for chat help, you can always file a support ticket and wait for them to get back to you.
Kraken is worth a look if you're interested in finding a new exchange. It offers plenty of opportunities for casual and institutional investors alike. However, Kraken is not Canadian – while it caters to Canadians customers, its lack of Interac e-transfer for example makes it less interesting than other Canada-based crypto services. If your goal is trade crypto, give Kraken a look, if you're simply looking to buy or sell bitcoins with Canadian dollars, go for Shakepay, BullBitcoin or Coinsquare.