As cryptocurrency makes even deeper inroads into the world economy, businesses enabling easier on-ramping to Crypto and Bitcoin are crucial to its adoption. One such business is ShakePay, a Canadian service hailing from Montreal that was able to reinvent itself in response to customer demand.
ShakePay began as a prepaid debit card service fuelled by cryptocurrency. Customers would purchase prepaid cards with bitcoins. When it came time to buy something, the card would be used just like any standard prepaid or debit card. The ShakePay system would automatically convert bitcoins into fiat to complete the transaction.
This business model eventually fell apart when the bank that issued the cards on behalf of ShakePay ran into trouble with Visa. Rather than try to rescue that business model, ShakePay management decided to start over with a new service. That's where we are today.
The new ShakePay launched in early 2018 throughout Canada, except Quebec for which it became available a few months later. ShakePay is a combination of cryptocurrency exchange and digital wallet service. It is powered by a mobile app through which users can buy, sell, and trade cryptocurrencies. ShakePay currently supports only bitcoin (BTC) and ether (ETH).
Table of Contents
How ShakePay Works
Using ShakePay is as simple as using a mobile app to make electronic payments. To sign up, you download the app to your smartphone and launch it or register via their website. You'll need to enter your name, address, and date of birth so that they can verify your identification in compliance with Canadian laws governing money laundering and international terrorism (KYC basically).
Once you are verified* (for most users, it takes only minutes) you can buy your first bitcoins or ether coins. The coins will be stored on the ShakePay system. Online storage, hot storage in the crypto lingo, is something that should concern all crypto investors, but ShakePay assures customers that the majority of the assets they hold are kept off-site, in cold storage. Nonetheless, you should move your crypto assets of ShakePay and any other exchanges to your own (cold) private-key hodling storage.
With coins in your wallet you are free to make transfers to other ShakePay users for whatever reason. They can also transfer coins to you. You can buy and sell coins as an investor focused on long-term returns or you can trade more like a FOREX currency trader.
*While the initial verification will usually only take minutes before your account is activated and useable, be prepared to be submitted to a more exhaustive KYC procedure (having to take a selfie with ID and submitting a proof of address) after using ShakePay for a while.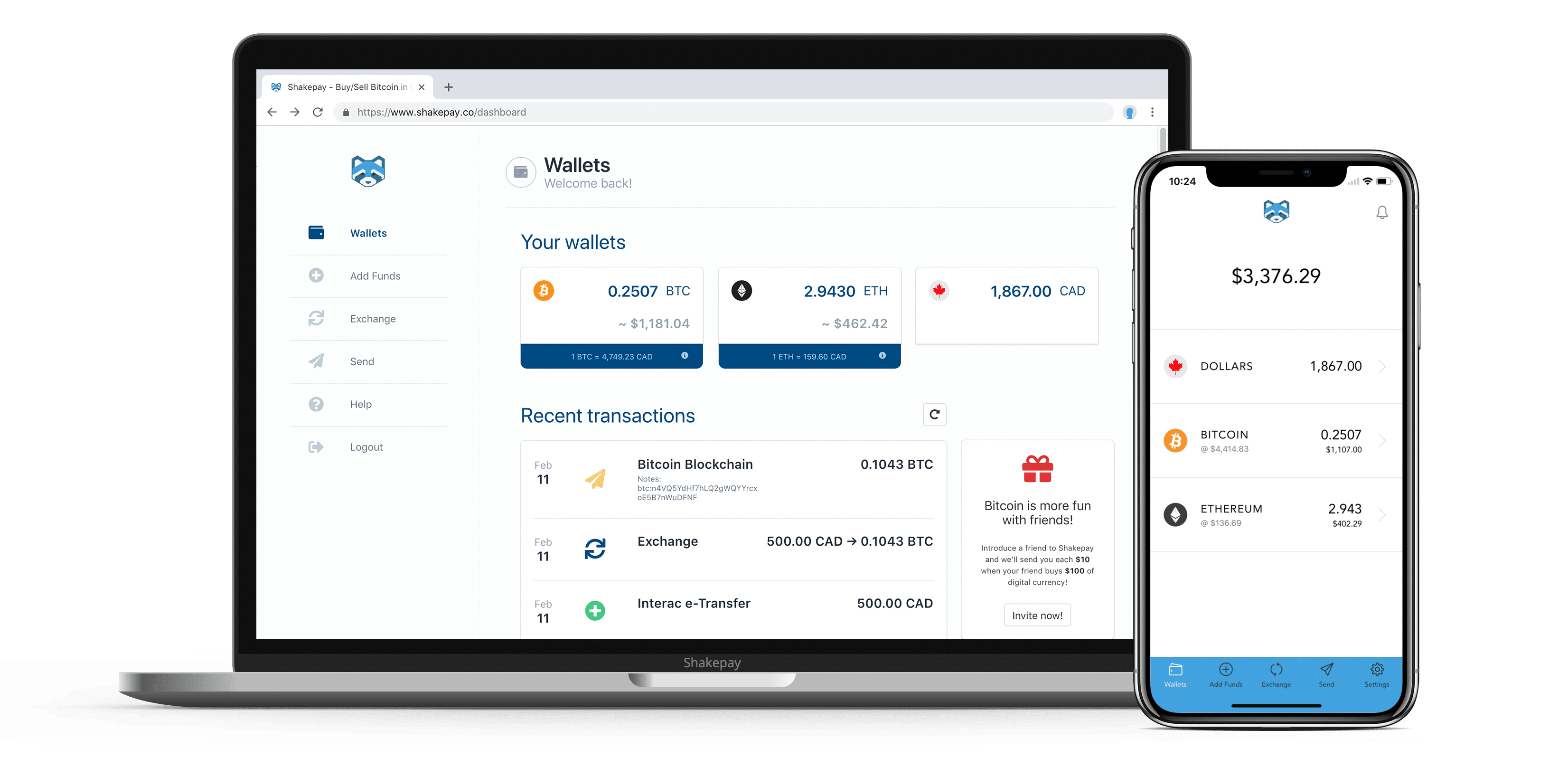 ShakePay Features and Fees
You now know the nuts and bolts of ShakePay, so let us talk about features and fees. Among the service's most attractive features is its licensing. In other words, ShakePay is licensed by FINTRAC and the AMF to operate as a money service business (MSB). Licensing ensures that the company adheres to all regulations governing security, trading, fairness, customer privacy, etc.
Here are some of the other features:
Speed – It takes just minutes to set up an account and purchase your first bitcoins or ETHs. Coin purchases are confirmed in under 5 minutes, while conversions between Bitcoin and Ethereum are instant.
Interac Support and Bank Transfers – ShakePay allows you to buy coins and make withdrawals from your wallet using Interac transfers and your Canadian bank accounts. You can also withdraw into Canadian dollars to your bank account via the same methods.
Responsive Support – ShakePay takes great pride in the support they offer. Dubbed 'responsive support', they promise to resolve customer issues within hours. Support is available seven days a week.
In terms of fees, it is a mixed bag. ShakePay's transaction fee is higher than most at 0.75%. ShakePay's transaction fees were recently abolished. The flip side of that coin (no pun intended) is that transaction fees are all you pay. ShakePay covers all the fees for you, including mining fees. In the end, that makes ShakePay very competitive with similar services. One thing you may want to double-check is their buy-sell spread; while it's usually fair and reasonable, it tends to vary at times so you may want to time your purchases.
ShakePay is mainly for small volume investors and people who want to dabble in Bitcoin and Ethereum. However, they have an OTC application for large volume traders. Said traders have to contact them directly for more information as they do not spell out this application on their website.