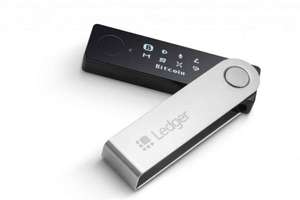 The Ledger is a cryptocurrency hardware wallet which is designed to protect user's funds from theft. The device acts as a sort of virtual vault, whereby the only way for a transaction to be approved is to press a physical button. That means that a Ledger can be connected to a computer infected with viruses and it will make no difference, as funds cannot be sent without physical control of the device.
Ledger the company was founded in 2014 by a group of eight people, all with backgrounds in security and cryptocurrency. As of mid-2019, they had sold more than 1.5 million devices, making them the most popular hardware wallet manufacturer in the world. It is believed that Trezor has sold slightly less than a million devices. Ledger is also unique in that they offer custodianship to institutional clients via their program, Ledger Vault. They are a company dedicated to security and the quality of their devices reflects that dedication.
Ledger Prices  
Ledger offers three different models, however, for the purposes of this review we'll only look at their two most popular offerings. The Ledger Blue is outdated and often out of stock.
The Ledger Nano S
This is Ledger's entry level device, costing only $89 CAD it should be affordable for almost anyone with enough money to speculate in crypto. Through their website Ledger offers free shipping as well as fourteen day returns.
It is important to note that buying a Ledger through the official website may sometimes cost more, but it's a really good idea. Ledger devices bought via Amazon or eBay may have been tampered with in some way that could allow for the theft of funds. Buy direct from Ledger and know exactly what you're getting.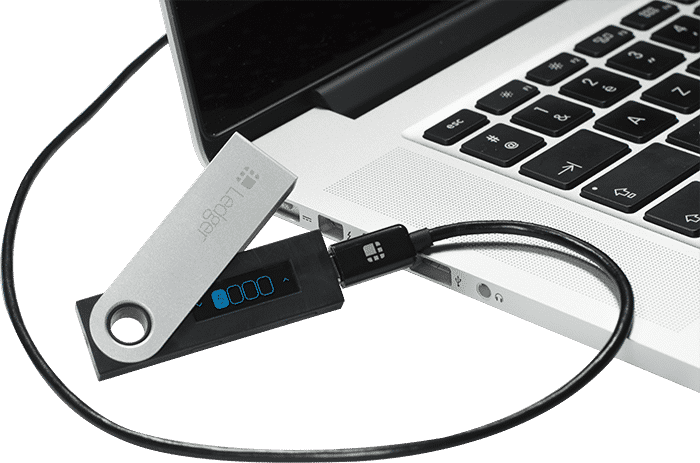 The Ledger Nano S 
Ledger Nano X
Ledger's upgraded model costs twice as much as the Nano S. The Nano X comes in at $159 CAD, however, the device looks better. It's sleeker and more modern, as compared to the somewhat clunky design of the Ledger Nano S. In addition it offers two other more tangible benefits.
More wallet storage. The Nano S is only capable of holding about half a dozen cryptocurrency wallets at the same time. The Nano X can hold up to 100 wallets. More on this and why it matters later.
The Nano X has Bluetooth. This allows transactions to be signed without having to plug the Nano into a computer. This makes it ideal for mobile use.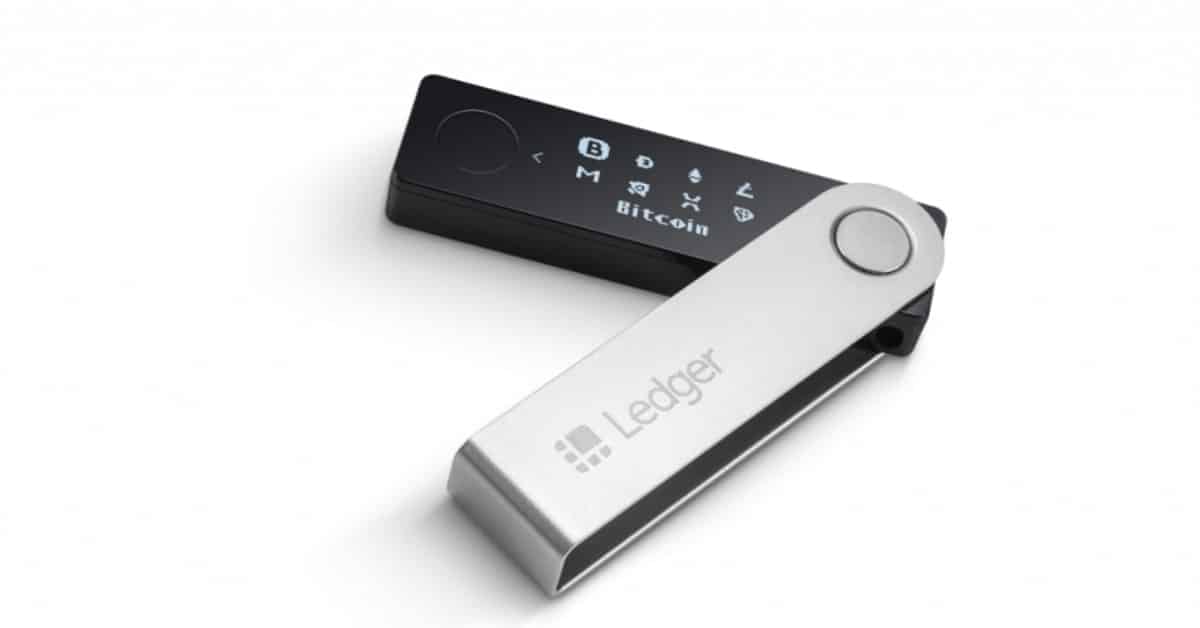 The Ledger Nano X 
How to Hook your Ledger Up to your Computer
To connect your Nano S or Nano X to your computer you can download Ledger Live. This is Ledger's official program that's used for managing their devices. It allows users to install wallet apps on their devices as well as send and receive payments. In addition there is a cryptocurrency tracker which allows users to see what their funds are worth in dollars.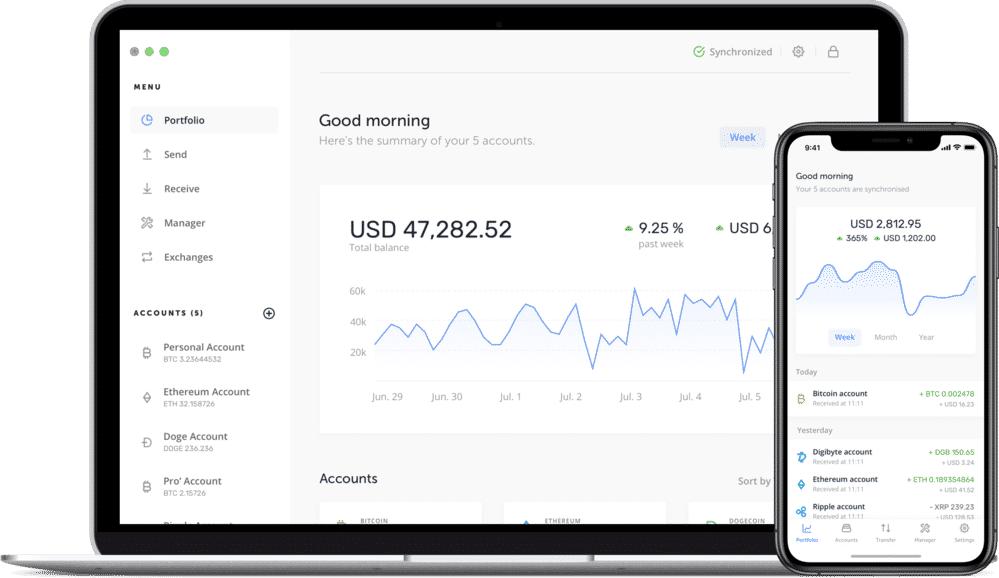 Ledger Live for PCs and mobile  
Ledger Live Mobile
With the introduction of the Nano X came the corresponding mobile version of the Ledger Live program. Users can download either the Apple or Android version of the app and manage their Ledger without having to connect it to a computer. More information on using this program can be found in the following sections.
How to Create a PIN
The first step in setting up a new Ledger device is creating a PIN. Each time you use your Ledger you'll need to enter the PIN. If a person gains physical control over your device, it's only the PIN that stops them from having access to your funds. Here's how to set it up.  
Nano S
The very first thing you'll do after installing Ledger Live and connecting your Nano S to the computer is create a new PIN. In order to do so, use the right-side button on the ledger to increase the number and the left-side button to decrease it. Click both buttons at the same time to confirm your PIN.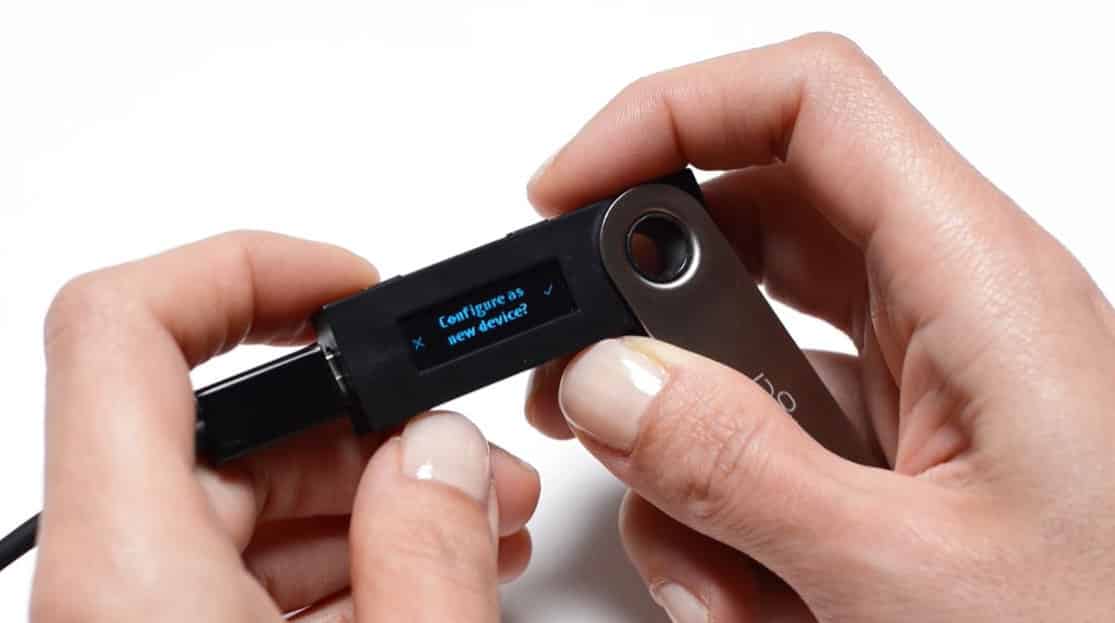 Confirm that you want to configure the device after plugging in your Nano S for the first time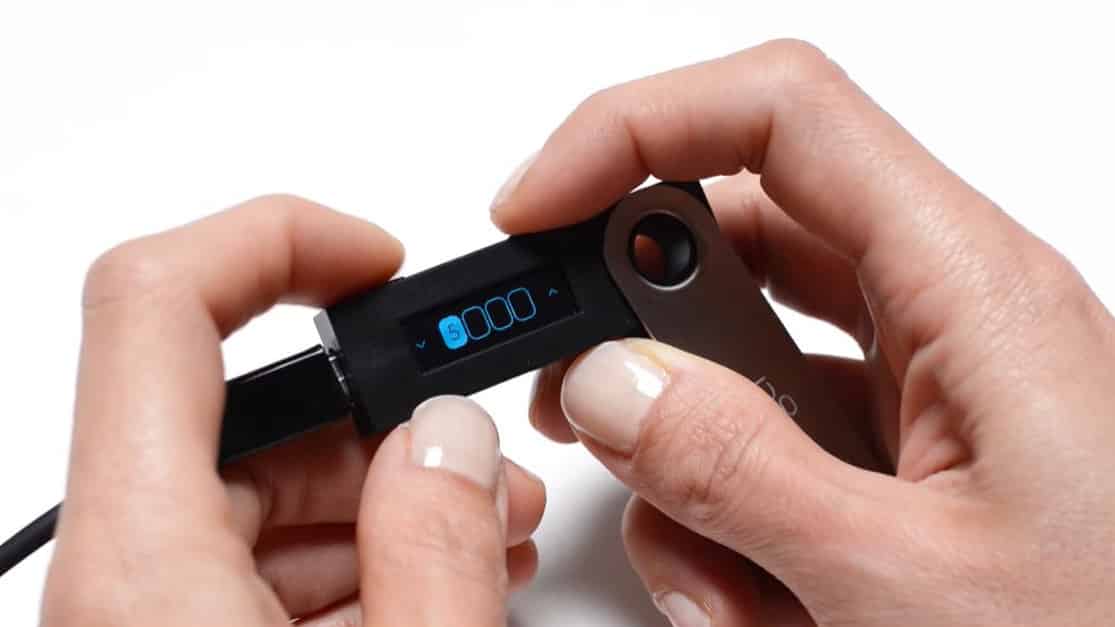 Use the push buttons to select a new PIN 
Nano X
Unlike the Nano S, the Nano X features its two buttons on the front of the device. Press the right-side button to increase the number and left-side to decrease. Click both buttons together to confirm. The Nano X will let you choose whether you'd like to use a 4 or 8 digit pin. A 8 digit pin is recommended for increased security.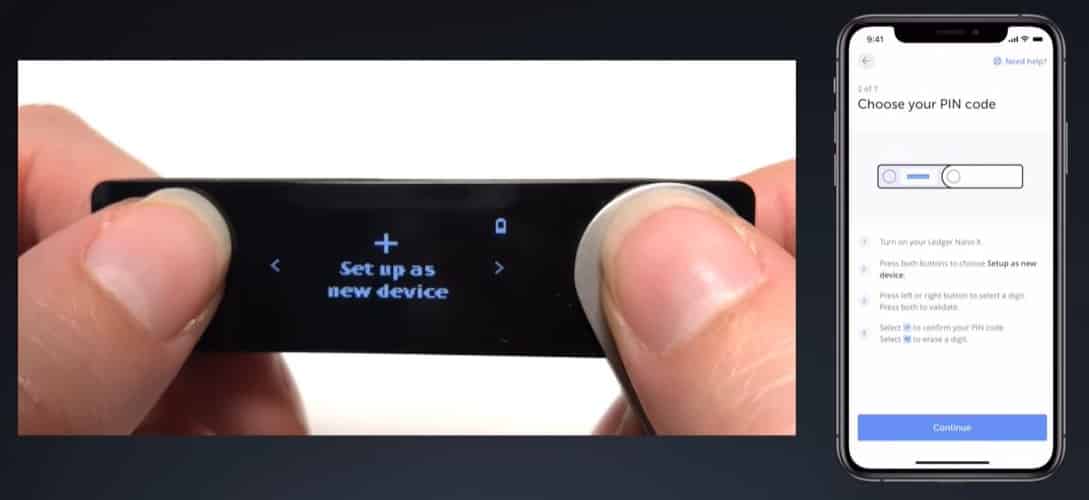 Click the buttons to confirm that you wish to set up a new device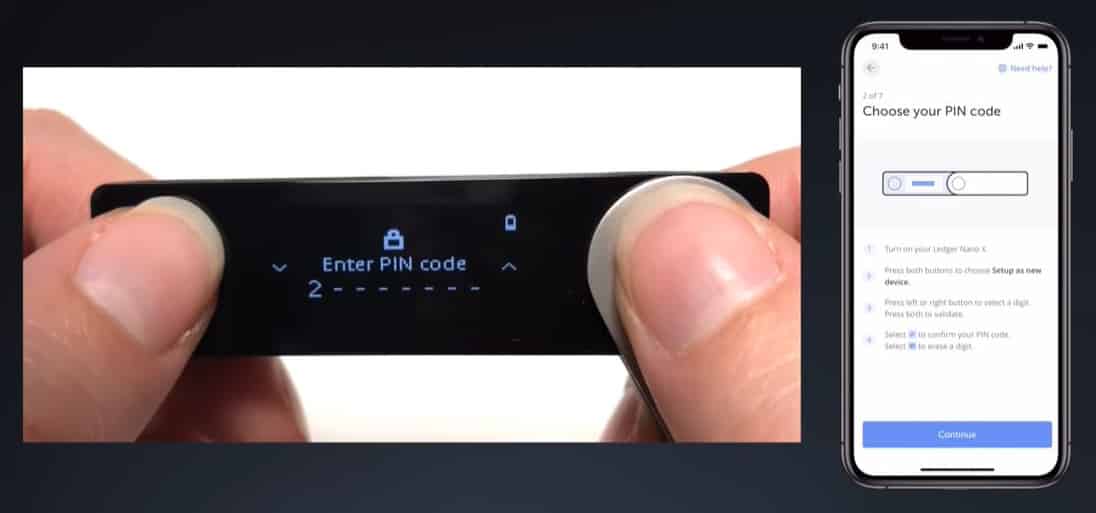 Use the buttons to enter a new pin  
Recording Your Seed Phrase
It's important to note that after the initial setup your Ledger will never again display the seed phrase. That's why it's imperative to write it down the first time, as the Ledger gives it to you. The seed phrase can be used to restore your funds in the event that your Ledger is lost or stolen. However, if the seed phrase is stolen it can be used to steal your funds so you should be careful about where you store it.
Never store your seed phrase on your computer or anywhere online.
Keep only physical copies and make them redundant. People have lost their crypto after a flood or a fire that wipes out both their Ledger wallet and their seed phrase.
With that in mind, let's look at how at your Ledger will create and display a seed phrase.
Ledger Nano S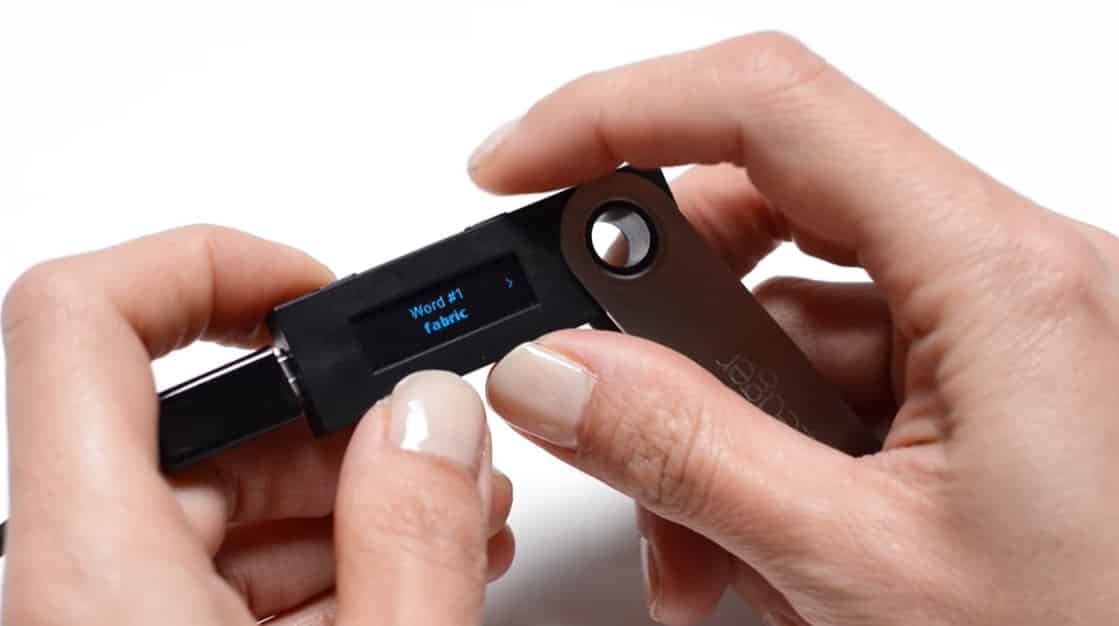 Be sure to write down the seed phrase as your Ledger displays it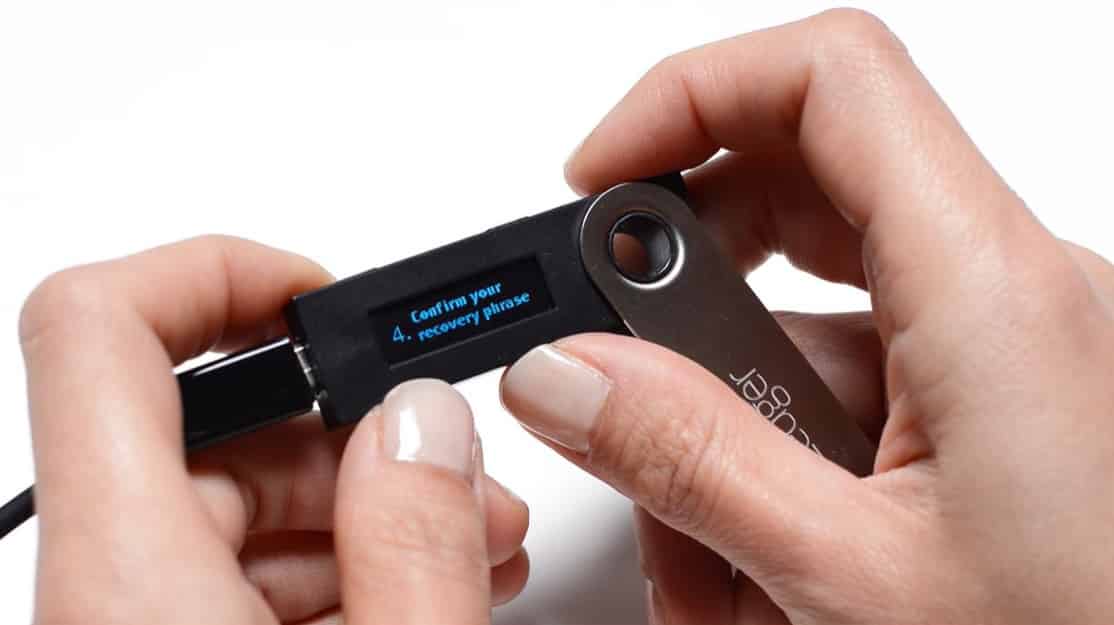 The Ledger will ask you to input the seed phrase to confirm that you've written it down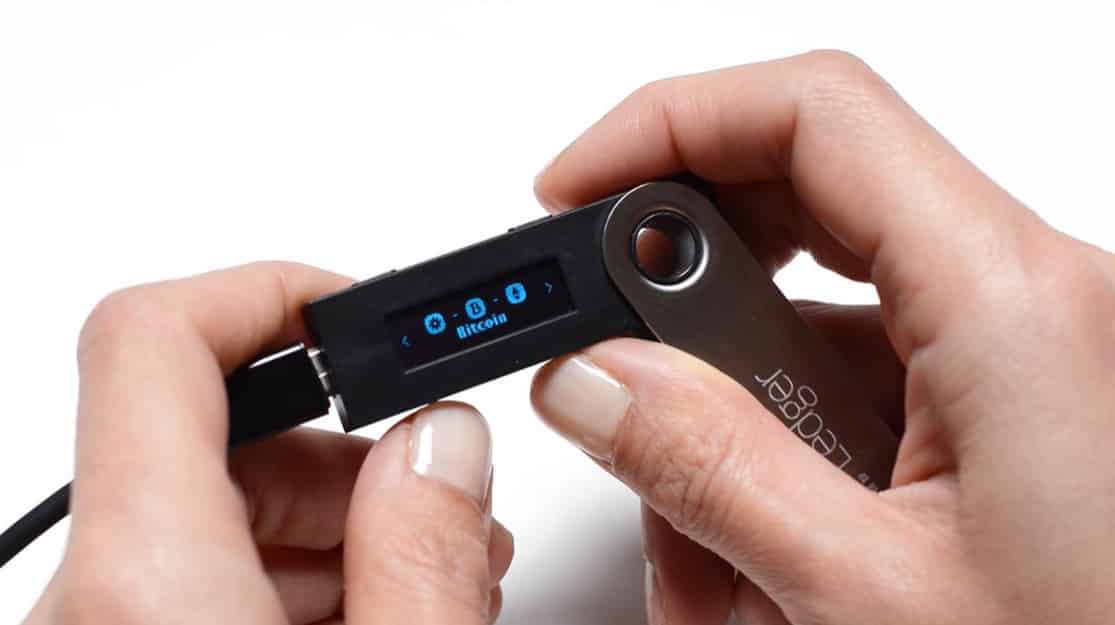 Once you finish setting up your Nano S you can begin installing wallets 
Ledger Nano X
Write down the seed phrase as your Ledger displays it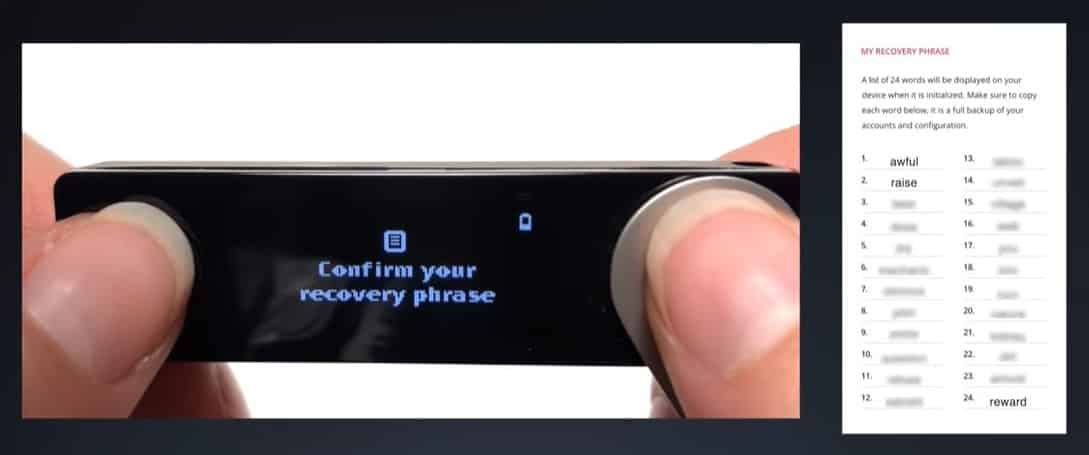 Enter the seed phrase confirmation phase. This is meant to ensure that you've written down the seed phrase correctly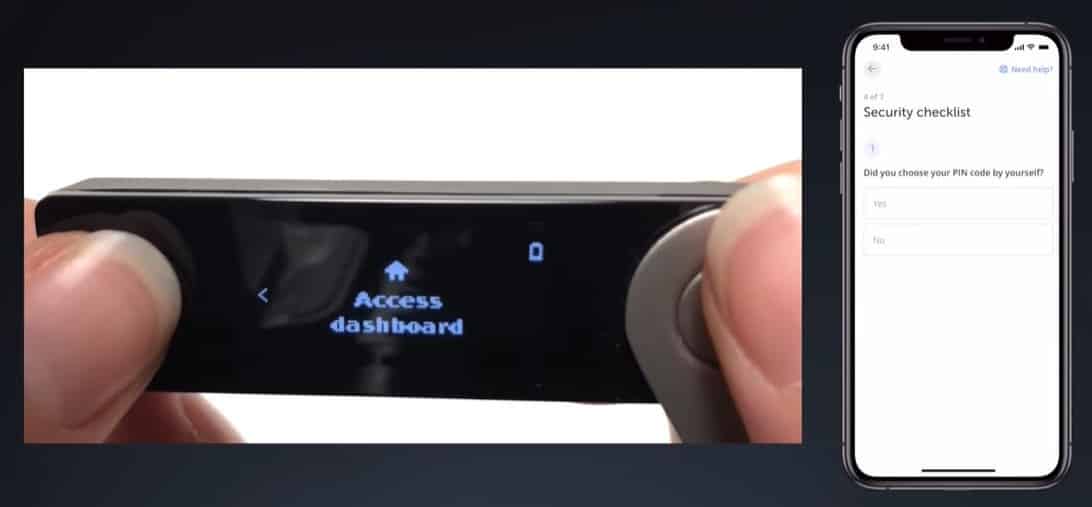 Once setup is complete you can access the device's dashboard  
Installing a Wallet Using Ledger Live  
Installing a new cryptocurrency wallet on your Ledger is a simple process using Ledger Live. Simply connect your device to your computer, unlock it by entering your PIN, open Ledger Live and then proceed with the following steps.
On the left hand side of the Ledger Live panel click Manager
Use the search bar to find the cryptocurrency wallet that you'd like to install.
Click install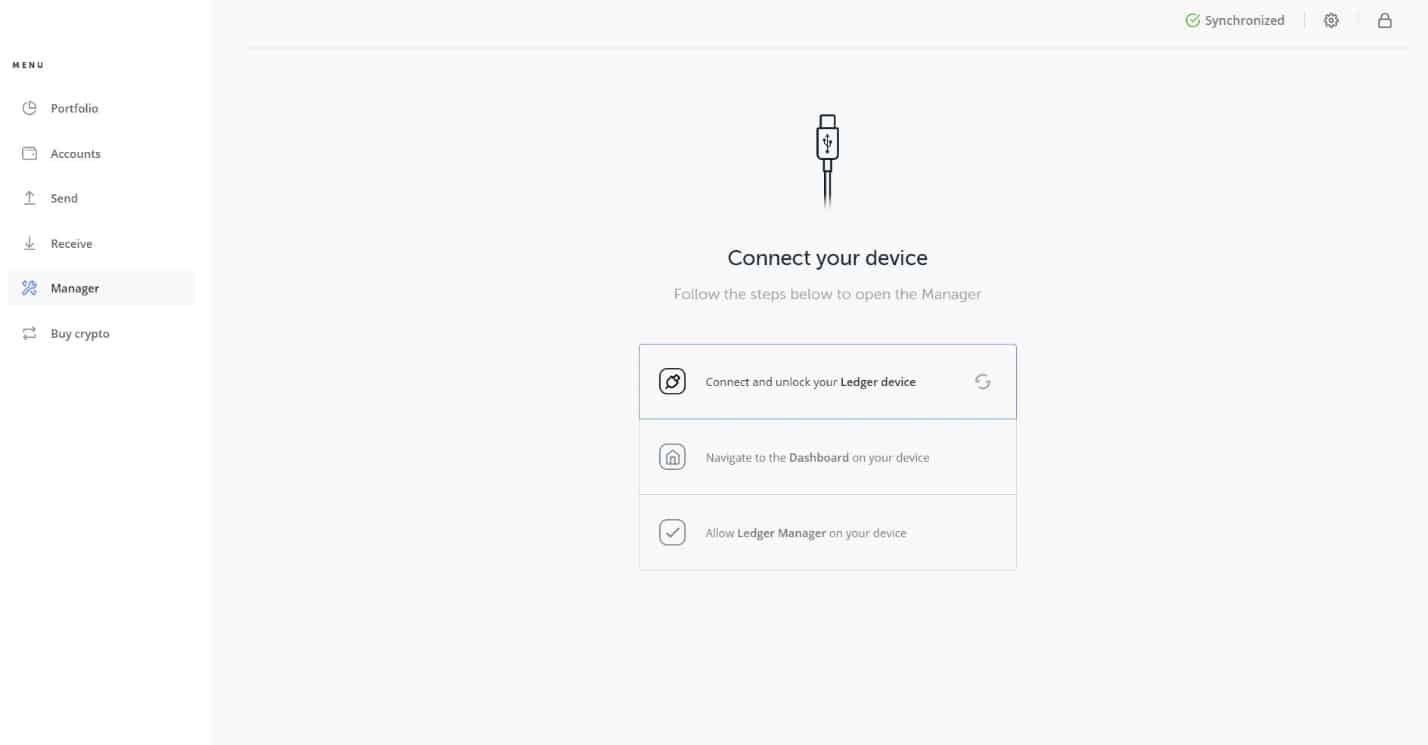 To install an App connect your Ledger and click manager on the left hand side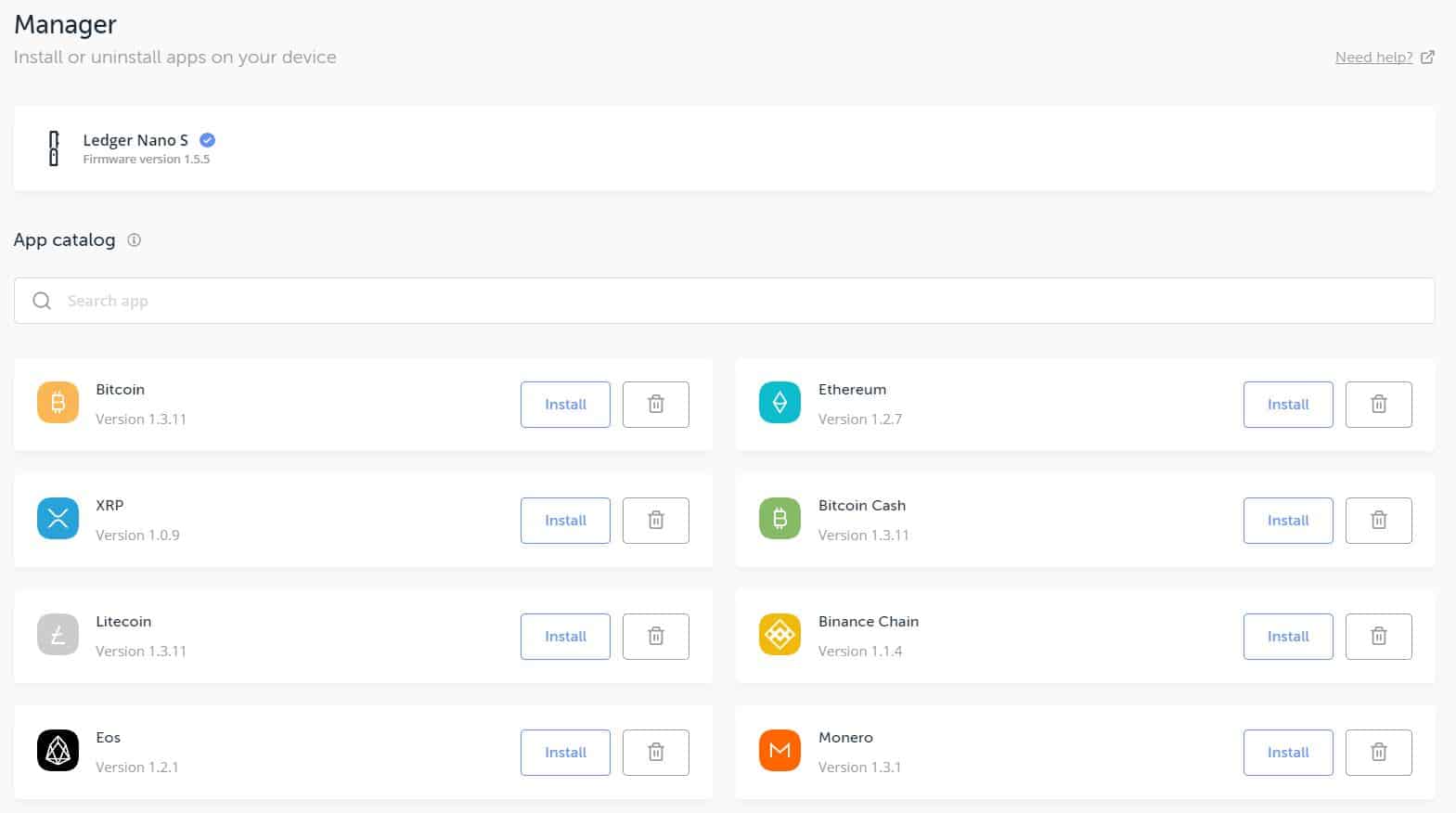 The App manager screen, use the search bar to find the wallets that you want to install on your device 
The installation can take ten to twenty seconds then the wallet will be ready for use. It's important to note that while the Nano X can hold up to 100 wallets at the same time, the Nano S can hold less than half a dozen. In the event that you need to install multiple wallets on your Nano S, it is perfectly safe to delete a wallet to make room for others. The funds will not be lost and can be easily accessed again by reinstalling the wallet. 
How to Send Funds to Your Ledger
The following directions assume that you're using Ledger Live with the Nano S and the mobile version of Ledger Live with the Nano X. However, the Nano X can also be accessed in the same way as the Nano S, using a computer.
Receiving Funds on a Nano S
Connect your Nano S to your computer and enter your PIN
On the left hand side of Ledger Live click receive
From the dropdown menu select which currency you'd like to use
Click next
On your Nano S, open the wallet which corresponds to the currency you've chosen to receive
Read the instructions from Ledger Live and click verify
For security purposes, manually verify that the address displayed on the Nano S and on Ledger Live are the same
If so, you can now copy that address and send funds to it
Receiving Funds on a Nano X
Open the Ledger Live mobile App and tap transact
Tap receive
Select which cryptocurrency account you'd like to transact with
Connect the Nano X to your phone using Bluetooth (more on this later)
Open the correct wallet on your device
Verify that the address displayed on the Ledger Live mobile app is the same on that's displayed on the Nano X
If the addresses match, push the right button until the screen reads approve, and then push both buttons to confirm that the address is correct
You can now copy the address and send funds to it
How to Make a Payment with your Ledger
Sending Funds on a Nano S
Connect your Nano S to your computer and enter your pin to unlock it
On the device select the wallet for the cryptocurrency you'd like to send
Open Ledger Live and on the left hand side click send
Select the cryptocurrency you'd like to send
Enter the address of the recipient and the amount you'd like to send
Click continue
Check your Nano S and make sure that the address you are sending to is correct
If all the details are in order you may click the right button to verify and send the transaction
Sending Funds on a Nano X
Connect your Nano X to your cellphone and open the Ledger Live mobile App
At the bottom of the App tap the transact tab
Tap Send
Select which cryptocurrency you'd like to send
Either scan a QR code or enter the address manually
Enter how much you'd like to send and then click continue
Verify that the address on the device is the same as the one you intend to send to
If everything is correct, tap the right side button on the Nano X in order to confirm the transaction
Using Bluetooth with the Ledger Nano X
The most significant advantage of having a Bluetooth enabled Ledger device is that you can keep your funds in a hardware wallet but still conveniently spend them. Older generation wallets were great for investors but they were highly impractical for day to day use.
In terms of security, Ledger designed the Nano X so that even if your phone and the Bluetooth connection are compromised, no person can steal your funds. No matter what else happens, a physical button always has to be pushed on the Ledger in order to confirm a transaction. For those interested, a full review of the Nano X's security guaranty is available here.
How to Use Your Nano X Via Bluetooth
Enable Bluetooth on both your phone and your Nano X. For Android users the location services option must be turned on.
Open the Ledger Live App and tap to pair a new device.
Select your Nano X and the pairing process will begin. This may take several moments.
Click both buttons on the Nano X to confirm the pairing.
Click both buttons to allow Ledger Live to access the device.
This is a one time process and will not need to be repeated unless the device is removed from your smartphone.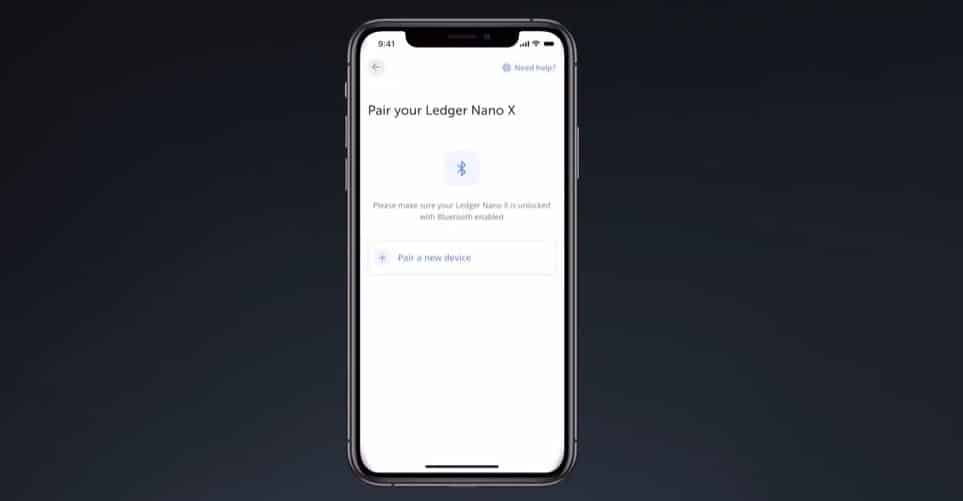 Open the Ledger Live App and tap "Pair a new device"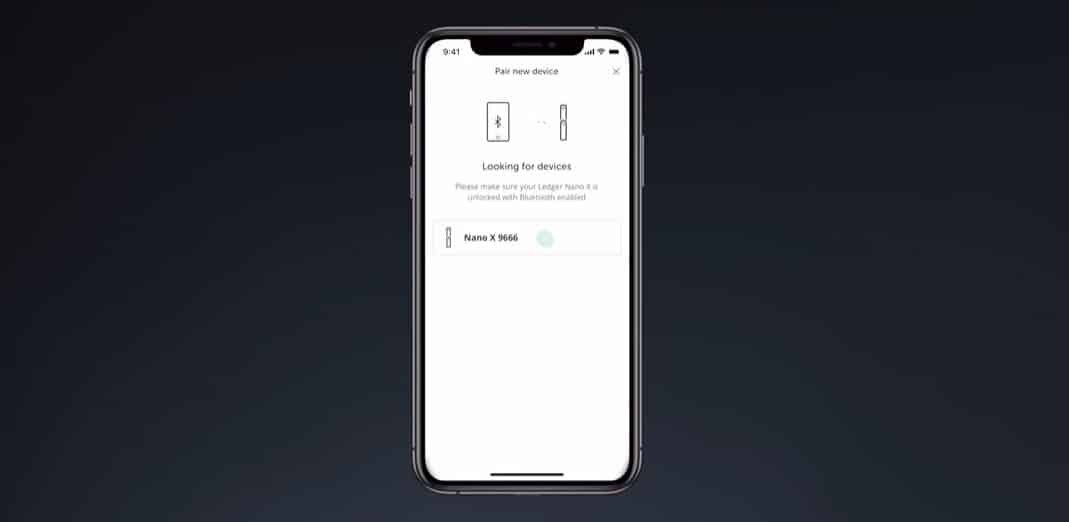 Make sure your Nano X is turned on and then tap to pair with it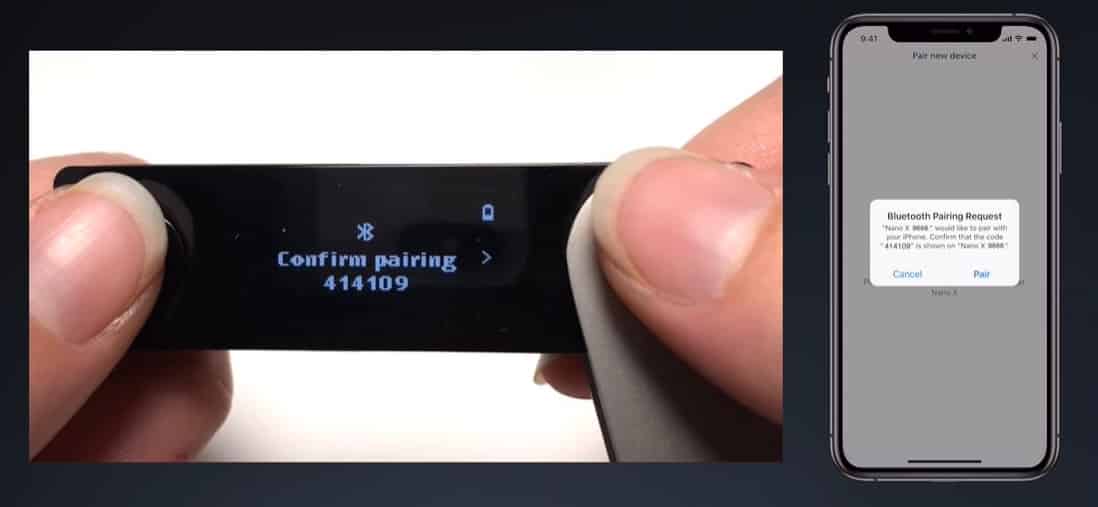 Confirm the pairing on the Nano X by pressing both buttons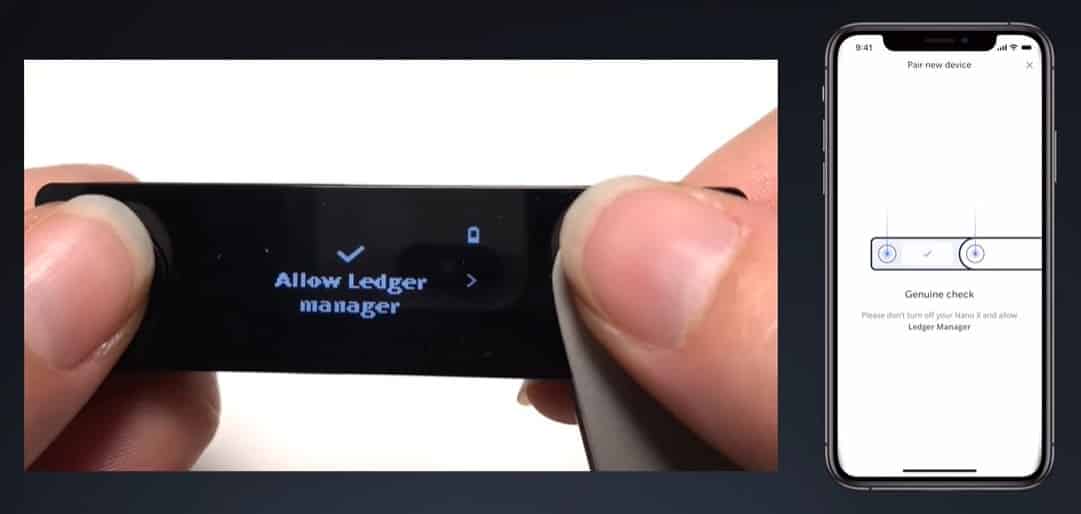 Finally, click both buttons to allow Ledger Live to access the device
List of Currencies Support by Ledger
Like Trezor, Ledger claims to support more than 1,100 crypto assets. Unlike Trezor where different models have different levels of support, both the Nano X and Nano S support the same currencies. In regards to which hardware wallet manufacturer supports more cryptocurrencies, there is no clear winner as they both support nearly the same coins.
There is, however, one notable exception: Monero. Ledger offers full support for Monero and both the Nano S and Nano X can integrate with the native Monero wallet. Trezor does not have this functionality. So if this privacy coin is part of your portfolio then a Ledger will be a better choice. A full list of the currencies support by Ledger can be found here.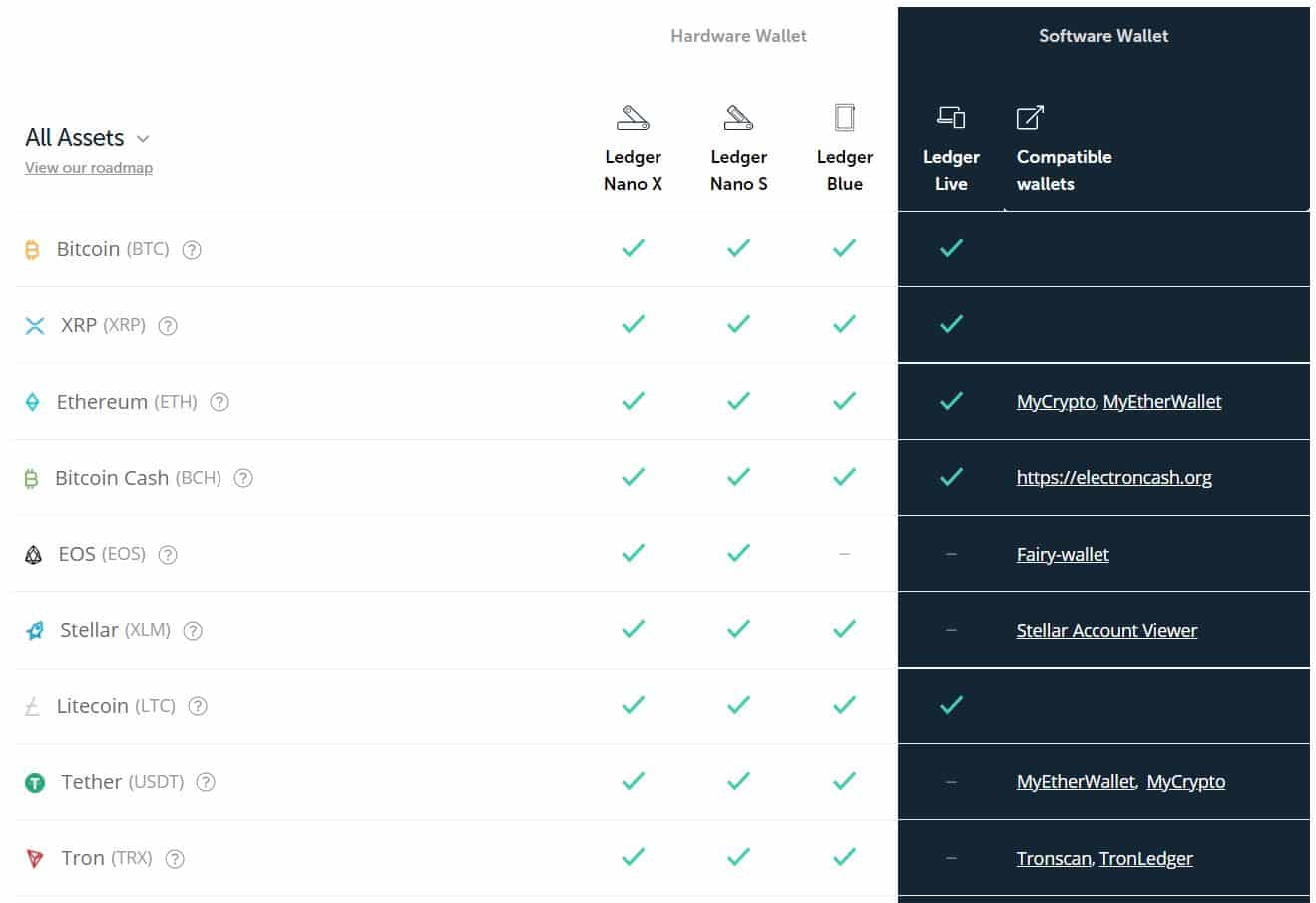 Some of the most popular coins supported by Ledger 
Don't Wait, Get a Ledger Today
To become the most popular hardware wallet manufacturer Ledger has clearly done something right. Their devices are robust, they work well and the Ledger Live interface program is intuitive and easy to use. In offering two pricing options Ledger allows for both casual and more dedicated users to select the device that is right for them. As a final note, Ledger offers a bounty program for anyone who reports bugs in their software, ensuring the highest degree of security in their products.
If you don't yet have a hardware wallet the time to get one has never been better. Order a Nano S or Nano X today and keep your funds right where they belong, in your hands.