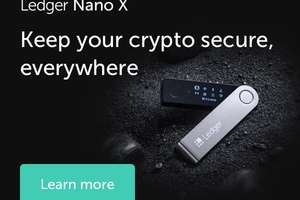 If you own bitcoins or other cryptocurrencies, how do you protect them? A repeated recommendation for consumers is to use a hardware wallet to protect you against both theft and loss. And as far as hardware wallets are concerned, few compare with the Ledger.
Ledger is actually more than just a single device. It is a company that offers three separate hardware devices for storing digital assets. Those devices are the Ledger Nano X, Ledger Nano S, and Ledger Blue. They also offer a software solution known as Ledger Live.
The Ledger is Cold Storage
Right off the bat, it is important to understand that the three Ledger hardware devices constitute
cold storage
. What is cold storage? It is a means of securing digital assets offline using a hardware solution that can be completely disconnected from the internet. A USB flash drive is technically considered cold storage.
Hot storage is online or storage on a computer still connected to the internet. Experts recommend against hot storage due to its obvious security concerns. If you are storing any amount of cryptoassets, do not take a chance with hot storage. Go cold and stay safe.
More About Ledger
As separate cold storage, the three Ledger hardware devices have their own screens and built-in software. Both the Nano X and Nano S are wallet-sized storage solutions while the Ledger Blue is about the size of a small tablet computer.
Each of the three wallets comes with several built-in security features to prevent hacking. So you decided to buy bitcoins or some other crypto, now you'll want to store your bitcoins and cryptocurrencies by sending them to your wallet addresses generated by your device. After setting your Ledger (see below) and saving your private seed words – indeed, each of the Ledger devices encourages users to write down their private seed words, thus creating a backup in case the device is ever lost or destroyed – you'll be able to use a computer to install the respective apps for your crypto. Once on the device, they are stored in a secure and safe environment.
Setting up the Ledger
Unlike a USB flash drive, the Ledger device is not ready to go out of the box. You need to set it up first. Why the extra step? To make it as secure as possible. But no worries, set up is easy.
Set up begins by plugging the device in to your computer using a micro-USB cable. The screen on your device will activate, requiring you to create a PIN code. This is done on the device screen, not your computer. You will also be encouraged to write down the recovery phrase supplied by the device.
Next, you will have to confirm your seed by providing two random words. Once confirmation is complete, you will be able to start installing the app that will allow you to interact with your device. From there it is a matter of establishing your individual wallets and downloading the information on to the device.
Note that the Ledger screen is that which provides most of the security. Even though you connect the Ledger to your computer, you will be interacting with the screen by entering passwords and secret keys. This extra step makes it much harder for unauthorized people to gain access to your assets.
Supported Cryptocurrencies and Cryptoassets
There aren't other hardware wallets that do what the Ledger does. In fact, no other cold storage solution offers the same volume of support. At the time of this writing, the Ledger Nano X and Ledger Nano S support an astonishing 1185 assets including Bitcoin, Bitcoin Cash, Ethereum, Litecoin, XRP, and EOS. The Ledger Blue supports fewer assets.
The Nano X retails for just about $159 while the Nano S can be had for just under $90. The Ledger Blue costs around $360. For security reasons, you should Purchase Ledger or only from retailers recommended by the company itself. Recommended retailers include Amazon, Best Buy, NewEgg, Walmart, and a few lesser known providers.
Whatever you do, do not buy a Ledger device from an online auction site or an unknown retailer. It is too easy to install malware on a Ledger device prior to sale, opening up the buyer to digital asset theft. Moreover, regardless of where you buy your Ledger, once you've received your shipment, make sure the package and the seal has not been tampered with.
Cold storage is the best way to protect digital assets from loss or theft. If you have been looking for a robust cold storage wallet with excellent security features, the Ledger might just be what you're looking for.